Executive Summary: improved support for High DPI displays, IE11, and Windows 8.1 added. Quero Toolbar is an open-source navigation bar, search tool, and ad blocker add-on for IE11 and below. See IE11 Toolbar Flexibility for popular user configurations.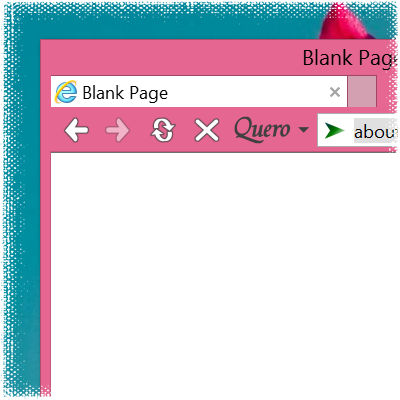 High resolution displays, a trend which emerged from the mobile and tablet space (originally led by Apple's iPhone Retina display) is now quickly reaching the Windows desktop as more and more Windows 8 devices are released with high density displays such as the Full HD Surface Pro and Surface 2 tablet.
Quero and Windows have long supported High DPI displays, but the support was until now not optimal. In fact, High DPI support requires substantial support from software publishers (ISVs) to correctly scale their apps, graphics and layout on high DPI displays.
Quero Toolbar 8 now adds full Windows 8 High DPI support and features a set of fully remastered high-res icons in order to run on high resolution tablet and desktop PCs.
Quero Toolbar 8 has been modernized for Windows 8.1 but also works great on Windows 7, Windows Vista, and Windows XP. Check out the full change log below. As always, it is recommended to update to the newest version on all platforms.
Quero Toolbar 8 feature list
Improved support for IE11 and Windows 8.1
Improved High DPI support: icons now scale according to your DPI setting on high DPI displays such as the Surface Pro tablet
Remastered high resolution icons
New search and lock icon
Two new Quero HD Themes for download available: Internet Explorer Black and Black XS
Search terms are now displayed in the Quero box for https connections and AJAX powered searches on Google
Redesigned options dialog and search engine drop-down list
New option added to turn address navigation off
New option added to toggle between black and white Quero button
New Option added to control DPI scaling
Hide IE8 Favorites button option moved to the Advanced tab
Removed the search prompt when "Show address" is enabled
Improved installer: now automatically closes IE before installation
Fixed: Ctrl+W did not close the current tab if focus was in the Quero box, full-screen video playback brought the IE back/forward buttons back in Windows 8 even though they were disabled, highlight and find issues fixed
Performance improvements
Related posts
IE11 Toolbar Flexibility
New Search Icon
New Lock Icon
New Options Dialog
Internet Explorer Black
If you like the project, please continue to support Quero and keep it alive by making a donation. Thanks!
Happy browsing with Quero Toolbar 8 :)